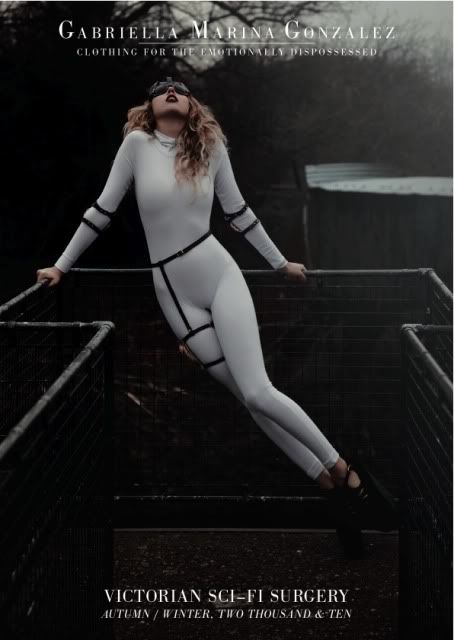 for full look book please visit www.gabriellamarinagonzalez.com.
Press Release
Gabriella Marina Gonzalez has launched
her A/W10-11 accessories collection
entitled"Victorian SCI-FI Surgery".
Her current work was inspired by
exploring feelings of emotional restrain
and uncertainty about her position
in time. She uses escapism to create a
subconscious reality were time has no
boundaries and she can bounce from
past to future to collect data in an attempt
to discover her purpose in the present.
This is were she developed her designs
for the current collection. T he collection
mixes periods and materials to create a
historical camouflage making it difficult
to associate with a particular period in
documented time. This allows her to jump
from era to era collection data unnoticed
in hopes of one day understanding the
world, human nature and herself. T he
collection was entirely hand made with
her own hands in a long and meditative
state adding a personal and emotional
connection to each individual piece. She
believes this transfers a bit of her aura
to the piece in hope that the glow will
shine acting like a light house of hope to
lost and weary roamers so that they will
know they are not alone. T he collection
consist mostly of brown and cream
leathers, bronze fixtures and old stamps
which gives the appearance of being
made from reminisce of an abandoned
Victorian house. T he T-shirt imagery is
representative of a nameless ghost who
explores the timeless subconscious world
as people run with fear of the unknown.
The platform shoes are an tool for the
explorer. There towering heights create
a pedestal form which she can look over
crowded, infinite seas of people trying to
stay afloat while searching for answers
Special thanks, Model: Jemima Croker
Photographer: Sarah Piantadosi